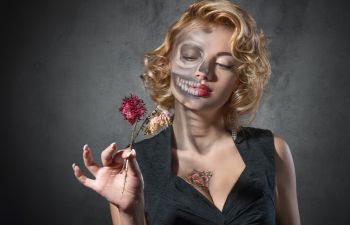 Getting Ready for Halloween with a Treatment
There's nothing like staying home and cuddling under a big fluffy blanket with a nice cup of cocoa or tea. The nights get darker and come sooner, and everyone seems to be on the same page. Now is the season we take a little time to rest before all of the holidays start. So, when we're home we might be tidying up a little bit, but chances are that we're just watching spooky movies and munching on warm, buttery popcorn.
But before you get too comfortable in that couch, remember that the holidays are coming, and they'll be here before you know it. One or two appointments can help you feel your best as the party invitations start rolling in. Keep reading for some of our favorite pre-party season treatments to get you ready for all of your events!
Upper Eyelid Surgery
Blepharoplasty, or upper eyelid surgery, is designed to give your eyes and overall facial appearance a more youthful appearance. Often, the skin above the eyes starts to sag as we age, and as it droops over the eyes it can reduce our field of vision. If you are bothered by too much skin that makes your eyes look hidden or tired, Blepharoplasty might be a great option for you.
Fillers
If you are concerned about the loss of volume in your lips, cheeks, or any other part of your face, then dermal fillers are a great option. There are so many different types of fillers now that you can get the look you want with minimal downtime (if any). More voluptuous lips, more chiseled cheeks, or a stronger chin are just a short appointment away.
Botox
One of the best treatments you can get for the results and minimal downtime required is Botox. Those deep-set forehead wrinkles, those little crows feet, and even the little vertical lines between eyebrows can be banished with Botox. Erase wrinkles caused by muscle movement and give yourself a more youthful, rested appearance this season.
Call us today at (610) 789-6701 to schedule a consultation and we can help you find the best treatment for you.